Adults Sunday Plated Carvery
Kids Sunday Plated Carvery
Served on crispy garlic bread
Served with crusty bread and onion chutney
Served with warm crusty bread
All Served With Side Salad
Roasted Mediterranean Veg and Brie
Pastrami, Mustard Mayo and Pickles
Mature Chedder and Chutney
Honey Roast Ham and Piccalli
Two 4oz patties double stacked, topped with crispy bacon, monterey jack cheese and served in a lightly toasted sour dough bun with Spicy tomato relish, chips, pickles and slaw
Southern Fried Chicken Burger with Garlic Mayo
Southern fried chicken topped with crispy bacon, Monterey jack cheese and served in a lightly toasted sour dough bun with spicy tomato relish, chips pickles and slaw
Garlic Roasted Mushroom Soy Burger
8 oz soy patty topped with roasted mushrooms served with chips and slaw
Served with mash, greens and gravy
Pan Fried Lincolnshire Sausages on a bed of creamy mash served with onion gravy and greens
Topped with and option  of southern fried chicken and chill sauce or mushrooms and onions
Served with rich nachos and Sour Cream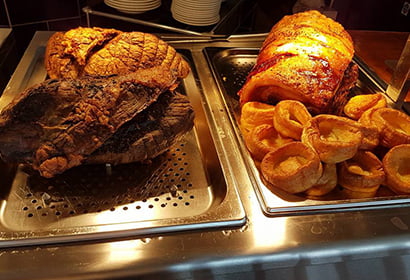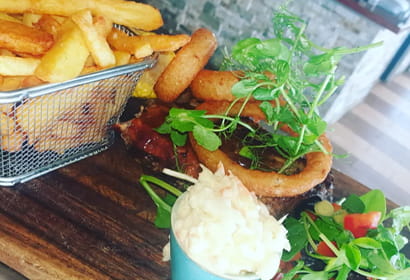 Beer Battered Cod & Chips
Served with peas & tartar sauce
With new potatoes, poached baby gem in saffron butter
Served with rice and poppadum's. With an option of  Vegetable, Chicken or Prawn curries
All Served with Chips, Corn on the cob, Onion rings, Salad and slaw
Jumbo fish finger and chips
All kids meals served come with beans, peas or salad
All desserts come with either custard, double cream or whipped cream.
Toffee Chocolate Cheesecake
Selection of cheese, olives, onion, chutney and fruit
just some of our attractions
"£12.99 for unlimited on rides, not including the ghost train but does include soft play and trampolines. A good range of rides and the soft play is brilliants. Highly recommend coming here on your holidays!"
"This place is great! We visited while staying at haven and the kids love it. The kids play area is massive and the arcades are classic it was like stepping back in time! Nostalgia! Great rides and friendly staff"
"Kids had great time. More aimed at younger children though. Understaffed as we had to find some employees for some of the rides. The prices were fair and my 4 year old had a great time"